XMO Winter Camp 2015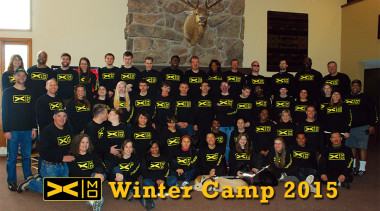 It was a frigid welcome from Denver Colorado as we all flew in from various locations to attend Extreme Mobility's Winter Camp 2015. For some of us, it was like coming to our favorite old vacation spot where we could reunite with family. Others had a new experience each step they took. Whether it was their first time or they had been coming for years, each person went home empowered. This week was filled with a number of opportunities where individuals were challenged to try new things, or push themselves to the next level. The activities of the week were downhill skiing, driving snowmobiles, rock-climbing, cross-country skiing, gymnastics, and flying down a steep and icy hill on small inflatable inner tubes. "I tried downhill skiing for the first time, I was scared and didn't think I would like it, but it was so much fun and I did way better than I thought I would." said a blind athlete from California. Athletes who had made it to the top of a rock wall last year challenged themselves to climb a more difficult route this year. With a couple of attempts they made it to the top successfully. First-time and returning trainers pushed themselves and tried new things as well. One new trainer led a group of six blind athletes as they went cross-country skiing for the first time. Things were going well until he accidentally led the group down a wrong trail that took them on a six mile "scenic route". A first time athlete noted his knees were so sore after completing a full day of skiing. "But, it was so worth it because of the breath taking scenery, and I mastered something new." Throughout the entire week, I heard returning athletes telling newer ones things like, "I know you can do it. I was scared when I tried it for the first time too. You will fall in the snow but it doesn't hurt, it's like falling on a blanket." The end of the week was very hard, however the end result made it a little more bearable. What is the end result? We all left a little different than we arrived. Each of us received encouragement. We heard that we could actually do things instead of people saying that it's not possible. We have heard that it's okay to fall, but it's not a failure if we get up and try again. We also have the opportunity to cheer someone else on, and then we feel empowered because we have made a difference in someone's world. At the end of the week, eight of the athletes gave their lives to Christ and many others continued to grow in their walk with Him. Extreme Mobility Winter Camp gave many of us blind extreme opportunities to do things that we've never dreamed possible. More importantly, it taught us the significance of walking by our faith, and not by our sight. Thank you to all who have supported XMO and made these opportunities possible. You are changing the lives of those involved with these camps so many ways. Thank you.
"Night of Inspiration" Highlights Walking by Faith, Not Sight
By Krista K. Bathan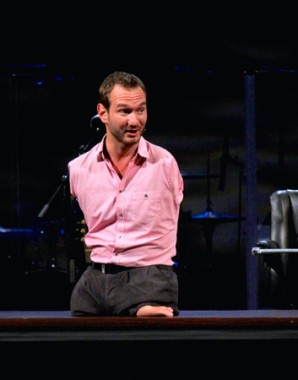 Nick Vujicic, born without arms or legs, affirmed that every person is made with a goal and intention from God.
Saturday, Jan. 10, an Adventist-owned non-profit organization Extreme Mobility Camps, Inc. (XMO) hosted a "Night of Inspiration," drawing 2,000 people of all ages to Calvary Community Church in Southern California. World-renowned speaker and XMO's new partner, Nick Vujicic, touched many lives with his testimony of hope and faith, leading many to give their hearts to God.
Bradon Schwarz, a Pacific Union College sophomore and son of XMO founders Bryan and Mindy Schwarz, members of The Place Adventist Fellowship in Newbury Park, directed the "Night of Inspiration." The organization offers visually impaired teenagers and young adults two annual week-long camps, one on the Newbury Park Academy campus and a winter one in Winter Park, Colo., where they can learn and perform extreme sports and strengthen their self-confidence.
Bradon developed a passion for the family-led ministry and has followed what he believes is God's calling to be the organization's vice president for business development. He organized the event with support from his parents and sister, Marleigh Schwarz, as well as help from many community volunteers and PUC students. In addition to sharing Vujicic's testimony, the inspirational event shared the testimonies of visually impaired XMO athletes Allie Pennington and Mike Mooney.
Vujicic's enthusiasm and passion showed as he shared how God created each individual with purpose and delight. Inspired by his message, 100 people renewed their relationships with Christ or gave their hearts to Him for the first time.
"His message wasn't like other testimonies," stated Evelyn Marquez, a junior at Pacific Union College, who drove to Southern California to help volunteer for the event. "He spoke little about his personal struggles and more about the hope that can be found when one recognizes the value that God sees in each one of us. I believe God shone a special light through Nick that night."
Mooney and Pennington testified on the positive impact of the XMO camp experience. Mooney was not a believer at first. He never considered God's role in his life until he got involved with XMO. "I learned that it's a lot easier to teach a blind person how to ski than teaching a person with sight, because the blind trust purely in the voice of their guide," he explained. "The person with sight relies on what they see. Blind faith is being able to trust God and not rely on your own sight to lead you."
Pennington explained how XMO has helped her build a relationship with God; how XMO became the support team she needed. "I always believed in God, but it wasn't enough for me to keep exercising my belief, especially with my condition and hardships in life," she said. "XMO helped foster and grow the faith that I always had. They are my family, always there for me, and I know they will always love me. They also showed me what God's heart was truly like."
XMO's goal is to expand to a camp for anyone with a disability. With that vision, XMO hopes to open a ranch to expand their growing ministry, establishing a safe Christian environment for individuals of every disability to experience a life-changing camp. In the near future XMO is planning three camps and a first-time mission trip.